Our Primary Goal
is to help you identify anime characters
Our Secondary Goal
is to build a meaningful database of characters and sources
Our Third Goal
is to build a friendly and welcoming Anime Community
Our Fourth Goal
is to listen to our members, and build the tools and features they want or need
To this end, you can find a near endless number of whacky side projects Rei has created
Try asking on the Who Board if you can't find the character you are searching for.
Search Tip : Gender should be the most accurate. Traps are indexed as the gender they appear.
| | | |
| --- | --- | --- |
| Animal Ears | | Animal Ears |
Layout
Moved the Guilds and Logo to the Top Left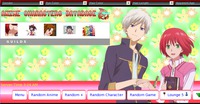 Lounge
Gasm requested the Image Upload work a little different. It now appends the BBCode to a new post, rather than auto-posting. Sorry, only one image at a time. Go to
My Files
if you want more !
Donations
We're now seeking monthly donations to help with the server costs.
CrunchyRoll
For the heck of it, we've joined the CrunchyRoll affiliates program. I guess I've been watching my anime from them for quite a number of years now. lol Gotta love getting fresh Japanese anime when it airs in Japan ! Will they approve our application, or not? Who knows! XD
Hetalia_Italy
Yesterday 09:56 pm

This show could not have ended better. What a ride. I'm really excited for the next season and what's to come next!

10
Kamisama Kiss
Feb 8, 2016 / Feb 8, 2016
by ilovepizza
Review length: Short
ONE OF MY TOP FAVORITE!!! ~~ The anime is just superb I highly recommend this for those who love Shoujo/Romance/Comdedy/Fantasy/SuperNatural/Demons lover like me ♥
Awaiting for them to update the Season 3 (anime) ♥ its just because the Manga is still on going and I just can't wait !! I'm just waiting for their new release!!
Post a link to an image you want the Anime Characters Database Community to Identify