1270
Mitsugu Sep 16, 2014
accordingly.
Section 0: The present
Section 1: 12 years ago
Section 2: 20 years ago
Section 4: 7 years in the future
48
LiCobra Sep 5, 2014
1267
redhawk373 Sep 1, 2014
1266
koosha Aug 30, 2014

A historical-fantasy role-playing video game developed and published by Square Enix for the PlayStation 2 platform, released in 2006. It is the twelfth title in the mainline Final Fantasy series.

The game introduced several innovations to the series: a seamless battle system, a controllable camera, a customizable "gambit" system which lets the player automatically control the actions of characters; and a "license" system that determines which abilities and equipment are used by characters. Final Fantasy XII also includes elements from previous games in the series such as summoned monsters, Chocobos, and Moogles.

Story:

The game takes place in the fictional land of Ivalice, where the empires of Archadia and Rozarria are waging an endless war. Dalmasca, a small kingdom, is caught between the warring nations. When Dalmasca is annexed by Archadia, its princess, Ashe, creates a resistance movement. During the struggle, she meets Vaan, a young adventurer who dreams of commanding an airship. They are quickly joined by a band of allies; together, they rally against the tyranny of the Archadian Empire.

A sequel, Final Fantasy XII: Revenant Wings , was released for the Nintendo DS in 2007.

Source: Wikipedia

1265
koosha Aug 28, 2014


About:
M3 the dark metal (M3〜ソノ黒キ鋼〜) M3: Sono Kuroki Hagane is a Japanese anime television series produced by Satelight that began airing on April 21, 2014. A manga adaptation with art by Kazuomi Minatogawa will begin serialization in Mag Garden's shōnen manga magazine Monthly Comic Blade from April 30, 2014.

Synopsis:
The story focuses on a group of 4 boys and 4 girls (later on 5) who met, when they were younger, in a realm full of darkness. A mysterious substance called Necrometal devours or infects anything that comes within a certain distant of a place called the Lightless Realm. It starts at an ordinary school in a city of close proximity to the Lightless Realm and focus's on Akashi for the most part. Akashi is no. 1 in the school when using the training bots to defeat schoolmates and is first seen fighting his best friend and defeating him. A man approaches him with an invitation to join a special force that is tasked with defeating the Corpses and uncovering the secrets of the Lightless Realm. Fast forward some time and a Corpse appears which has the power to "kill" people who hear its song. It sings a lovely melody and like a countdown, over the next few months it is discovered that Emiru has become infected by the Necrometal that has plagued the Lightless Realm for so long. It is now up to Akashi to use the device known as the Reaper or MA-Vess in order to defeat the Corpse and save everyone.

OP Theme 1: Re:REMEMBER by May'n
OP Theme 2: Replica by Maaya Sakamoto
ED Theme 1: Ego-izm by la la larks
ED Theme 2: Sable by Nano

Source:Wikipedia


1264
koosha Aug 28, 2014


About:
Aldnoah.Zero (アルドノア・ゼロ) is a mecha anime television series created by Olympus Knights and A-1 Pictures, that began July 2014. Aniplex of America has licensed the series for a streamed simulcast beginning in July. It will be broadcast on Tokyo MX, BS11, Asahi Broadcasting Corporation, Gunma TV and AT-X in Japan, with streaming available on Nico Nico Douga. It was also streamed in Australia by Hanabee.

Synopsis:
In 1972, an ancient alien hypergate was discovered on the surface of the moon. Using this technology, humanity began migrating to Mars and settling there. After settlers discovered additional advanced technology, the Vers Empire was founded, which claimed Mars and its secrets for themselves. Later, the Vers Empire declared war on Earth, and in 1999, a battle on the Moon's surface caused the hypergate to explode, shattering the Moon and scattering remnants into a debris belt around the planet. Cut off from Mars, the remnants of the Vers Empire established several massive orbital space stations within the debris belt and a ceasefire was established. 15 years later, in 2014, an attack on the Vers princess during a peace mission causes the Empire to launch a new attack on Earth, this time determined to conquer it once and for all.

OP Theme:
Heavenly Blue by Kalafina
Composer: Kajiura Yuki

ED Theme:
'A/Z' and 'aLIEz'
lyrics/music: Sawano Hiroyuki[nZk]
Vocalist: Mizuki

Sub-Theme:
'Keep On Keeping On'
Lyrics: Benjamin Anderson & mpi
Music: Sawano Hiroyuki[nZk]
Vocalist: Mizuki

Source:Wikipedia


1263
Mitsugu Aug 7, 2014


1262
asha0 Aug 3, 2014


Ran, the current Seer of Gabe, sells flowers in Lux. She can see an individual's possible future. Her followers in Gabe unquestioningly accept her predictions even at the cost of their lives. Gabe is home to the former leaders of Lux, who were overthrown by the Organo. Onishi is the current leader of the Organo and is credited with the current peace in Lux.

Yoshii comes to Lux from the legendary surface. Fed up with the unchanging nature life on surface, Yoshii covertly throws Lux into chaos, pitting the Organo, the Salvation Union, and the Racan against each other. The tensions eventually escalate into a battle in the streets between the three factions. Afterward, Yoshii attempts to convince Shinji, leader of the Racan, to assassinate a Class leader. Onishi arrives to prevent the assassination, and Yoshii almost kills Onishi, but Ichise arrives and kills Yoshii.

Doc goes to the entrance of the Class enclave and attempts to convince their leader, Kano, to take her in and use her Texhnolyze expertise, presenting Ichise as an example that Texhnolyzation can create perfect humans. However, Kano has a different form of Texhnolyzation in mind, so he destroys Doc's research and tries to kill her.

Kano undermines the three factions of Lux and creates an army of Shapes: humans whose entire bodies have been replaced with Texhnolyze, with only their heads remaining intact. The Shapes march on the city and many of Onishi's remaining allies are killed.

Onishi sends Doc and Ichise to the surface to warn of Kano's impending invasion. They discover that the world above is sparsely populated, and the remaining citizens have resigned themselves to extinction and became ghosts. The government is apathetic to the news of the invasion. Doc and Ichise find an old-style movie theater where they see a film that explains that Lux was created when the Class rounded up people who were thought to be imperfect or impure of thought, killing many and forcing the rest into the underground city. Doc commits suicide after seeing what the surface has become. Ichise returns to Lux, learning that the Shapes have captured Ran.

The Shapes begin to stop functioning, and Shinji is killed after killing most of the members of the Class in their fortress.

Ran shows her visions to the people of Lux, driving them mad. She is captured and taken to Kano's sanctum. Onishi goes to the Obelisk, begging the city for guidance. The city, in Ran's voice, tells Onishi to kill the city for driving everyone insane. He chooses to destroy everything rather than living on with madness in body and soul. He stabs the Obelisk, and it bleeds. The crazed men of the city shoot Onishi until nothing is left but his Texhnolyzed legs.

All of the Shapes, as well as Kano, have been rooted to the ground and permanently immobilized. Ichise finds Kano in the opera house. Kano says that he failed in his attempt to use Texhnolyzation to get people to evolve out of their violent ways, and now humanity's self-preserving bloodline has returned to its roots.

Ichise sees that Ran is behind Kano and has been turned into a Shape, but Kano says that she turned her mind off by her own will. Seeing Ichise's rage, Kano says that if Ichise kills him, the one sane man in the city, Ichise will only be embracing his own madness. Ichise responds by punching Kano's head off.

Ichise drops Ran's remains into the pool of Raffia. He leans against a column, watching a projection of a simplistic rendering of one of Ran's flowers. Eventually he slumps over and smiles as he and the city fade away.
1261
sbstratos79 Aug 1, 2014
236
LiCobra Aug 1, 2014

A 13-episode anime adaptation produced by Kyoto Animation aired in Japan between April and June 2009. An additional original video animation (OVA) episode was released in January 2010. A 26-episode second season, titled K-On!! (with two exclamation marks), aired in Japan between April and September 2010, with an OVA episode released in March 2011. An animated film based on the series was released in Japan on December 3, 2011. Bandai Entertainment released the first season in North America in 2011, while the second season and film were licensed by Sentai Filmworks. The title of the series comes from the Japanese word for light music, keiongaku (軽音楽), which in the Japanese context is similar to pop music.

In K-On!, four Japanese high school girls join Sakuragaoka Girl's High School's light music club to try to save it from being disbanded. However, they are the only members of the club. At first, Yui Hirasawa has no experience playing musical instruments or reading sheet music as she is only familiar with playing the castanets, but she eventually becomes an excellent guitar player. From then on, Yui, along with bassist Mio Akiyama, drummer Ritsu Tainaka, and keyboardist Tsumugi Kotobuki spend their school days practicing, performing, and hanging out together. The club is overseen by music teacher Sawako Yamanaka, who eventually becomes their homeroom teacher as well during their final year of high school. In their second year, the club welcomes another guitarist, underclassman Azusa Nakano. After Azusa joins they gain more structure and begin to practice more.
After their third year, Yui, Ritsu, Mio and Tsumugi graduate and enroll into a university. There they join its light music club alongside three other students: Akira Wada, Ayame Yoshida, and Sachi Hayashi. Meanwhile, Azusa continues to run the high school light music club alongside Yui's sister, Ui, their classmate, Jun Suzuki, and new members Sumire Saitō and Nao Okuda.
ANIMazer

Never mind, there was a picture of her where you can see her eyes in this section. But you never see them in the anime though, that´s strange...

06:34 am

Akikojam

Good question. The original title seems to be just a "Hooligan", so makes me wonder where the other part of it comes from. Well, jap to eng title translations often seem to generate additional words. Seeing how this is the same Frontwing that made Grisaia, I kinda doubt they'd have a title this lame...

02:11 am
VS
Akikojam asks
Haganai vs Oreimo (the out of the loop girl)
Popularity poll. Both are interested in the protag, but are generally left out of the main team. And both don't get along with the main heroine.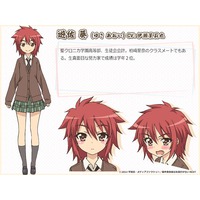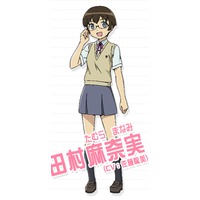 Latest Forum Posts

Re:Name an Anime where..
Well, i'm recently watching Baka to test seas[more ...]
Posted by TheAnimer
Thu 9:03 PM

Name an Anime where..
the main character/one of the main characters is i[more ...]
Posted by ermin96
Thu 2:11 PM

Certified Otakus
Kon'nichiwa..Minna-san [url=http://moe.animec[more ...]
Posted by KurokoMisaki-chan
Sun 10:54 PM

Image Filter
Server Time
7:59 AM, Fri Oct 24 2014
~Lounge~


Join the Lounge
Chatbox
Popular