The United States of America (Alfred F. Jones)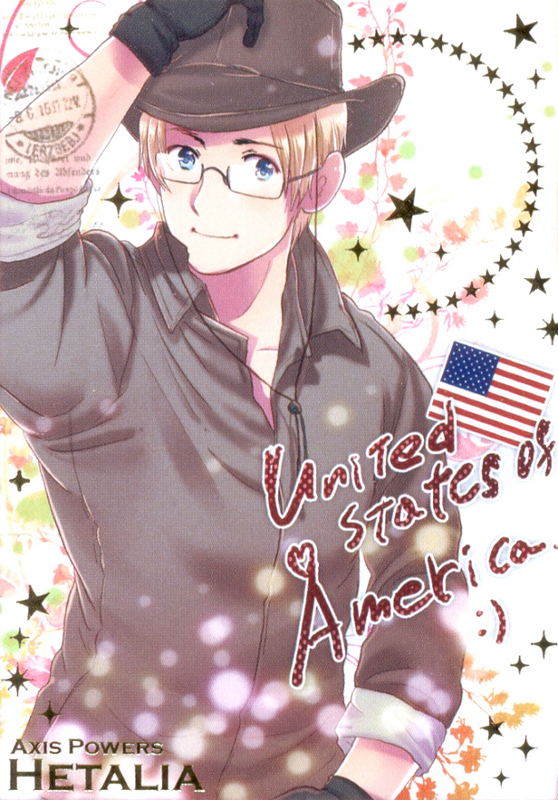 Date Added
Date Updated
Jun 15, 2012
Relations
Reverse Relations
Character Profile
America (アメリカ,亜米利加 Amerika) is an energetic and headstrong character. In the series, he was a feral child-nation found and raised by England, then later grows distant from him which eventually leads to him fighting for his independence. America is very similar in appearance to his twin brother, Canada, who is often mistaken for America. America has dark blond hair, vivid blue eyes, has glasses representing "Texas", a noticeable hair antenna representing "Nantucket", wears a US Army Air Force officer's uniform, and a vintage leather flight jacket. He is the self-proclaimed leader of the Allied Forces, and his catchphrase is "I'm the hero!" His ideas for solving international problems are often absurd, and he is usually oblivious to the opinions of others. America's ideas and inventions are grand, but rarely go anywhere. He is often portrayed as loud, obnoxious, egocentric, immature, and sticking his nose into other people's business with little regard for whom his actions affect. Yet despite his misgivings, he is shown to be a kind-hearted person who cares deeply for his friends. He is also shown to be extremely intelligent in several fields, but most of the other nations don't typically see him working in them and assume he is somewhat stupid.
He is a brave adventurer and natural explorer, wanting to try things no one has ever done before, and he usually spends his free time either eating indulgently or making movies. He can't sit idly for too long due to his hyperactiveness, which also gives a short attention span; and has a fascination of superheros which he aspires to be one himself as the world's policeman (contributing to his use of his catchphrase). His one crippling phobia is the fear of ghosts, which is at odds with his friendly acquaintance with a grey alien named Tonny, who lives in his house. America is frequently seen clutching a hamburger or eating while speaking, yet he is self-conscious of his unhealthy habits and tries several yet ineffective diets to stay healthy. He also has uncanny superhuman strength, being able to lift objects several times his size. In the anime series, his voice actor is Katsuyuki Konishi in Japanese and Eric Vale in English, both of whom also voice Canada. As a child, America's voice actress is Ai Iwamura in Japanese and Luci Christian in English.

Profile
Last edited by AniahLiepard, Tue, 11 Dec 2012 15:26:00 -0500
If you logged in, you could do the following:
Add this character to your favorites list.
Add a love heart to this character.
Add a hate heart to this character.
Upload additional images.
Edit this character's details.
Tag this character.
Add How Well Known info.
Add or update this character's profile.
Wise22

This is my favorite anime. Its very misleading and bloody. The ending is a total surprise.

Yesterday 08:54 pm
The United States of America (Alfred F. Jones)

Latest Forum Posts

Re:Hai people ヾ(@⌒▽⌒@)ノ
Hi, and welcome! Hope you have fun!
Posted by Ddraig
Mon 1:55 PM

Re:Title Request Thread
#1 Death Billiards #2 R - 17+ #3 http://madhouse[more ...]
Posted by delchan
Mon 12:37 PM

Re:Hai people ヾ(@⌒▽⌒@)ノ
Hey. You'll also probably fit right in with [more ...]
Posted by OMGasm
Mon 2:43 AM

Image Filter
Server Time
6:30 PM, Mon Jul 28 2014

Popular