Ruri Goko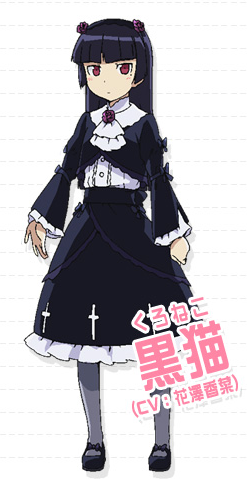 Ruri Goko has the following indexed traits
ID

22766

Gender

Female

Eye Color

Pink

Hair Color

Black

Hair Length

To Waist

Apparent Age

Teen

Animal Ears

No
Guild Coins | 1
1 Guild Owner

Flat is JUSTICE!
Relations | 5
Ruri Goko has the following relations with other characters
These characters have the following relations with Ruri Goko
Additional Images | 7
Ruri Goko has the following additional images
Comments | 13
Really one of the most awesome anime characters ever! Been reading a bit of the light novel lately ( the original source that the anime is based on ) and she just becomes more and more awesome.
Kuroneko !!!
AkemiDouhito

- Oct 28, 2012

She's so cute! <333 I want to hug her! <33 :*
| | |
| --- | --- |
| | Currently also reading the spinoff manga that's made with her as the main heroine instead of focussing so much on kirino. KYAAA it's awesome ! |
| | |
| --- | --- |
| | time goes by so fast it's almost scary, I remember watching this anime like it was yesterday. Kuroneko is just SUPER ! xD |
| | |
| --- | --- |
| | Todays episode .... Todays EPISODE .... yep TODAYS EPISODE! Kyaaaaa I can't spoil it for obvious reasons but people that haven't watched Oreimo yet should really start watching soon xD |
| | |
| --- | --- |
| | Still waiting for ongoing to turn completed, which is still several weeks away. Stop kicking my resolve to wait in the head |
| | |
| --- | --- |
| | xD hehe ye sorry it's just that this last chapter made me jumping and cheering so much. I'm amazed at your willpower to wait till it is completed. |
Lonewolfsinger

- Jul 15, 2013

I don't see how it's possible to wait till the season ends. Just to much Kawaii. Need more Kuroneko.
so true, Kuroneko is awesome. I really hope they will not rush too much trough the rest of volume 12 ( the final volume of the light novel ) in the later released episodes though I am afraid they will rush trough it very hard.
If you really like Oreimo a lot then you should definitely check out the light novel aswell since a lot and I mean A LOT of scenes are not put in the anime.
Lonewolfsinger

- Jul 15, 2013

Would you mind directing me to the spinoff manga. I think i may have heard something vaguely about it once. Not sure about that. Would love to see Kuroneko more than a secondary character.
thanks
| | |
| --- | --- |
| | search for "ORE NO KOUHAI GA KONNA NI KAWAII WAKE" there is not a lot of it released but it's an enjoyable read nonetheless. |
| | |
| --- | --- |
| | So, from all the events in the second season, I guess I could sum up Kuroneko as a "good character in the wrong anime". She'd look way better being friends with Kobato and Sena in Haganai than having to deal with Oreimo characters' stupid drama. I still have high hopes for her in the Oreimo VN. I know it has a bit modified plot, but that's EXACTLY why I have high hopes. Because, honestly, Oreimo anime(and apparently LN) plot is plain horrible, only the characters are good. |
| | |
| --- | --- |
| | Kuroneko is and will always be my favorite character in Oreimo |
Character of the Month Winners | 1
Ruri Goko has won character of the month !
Favorites | 64
Ruri Goko has been saved as a favorite character by
Tags | 9
Ruri Goko has been tagged as
Assignments | 1
Ruri Goko appears in the following
Voice Actors | 1
Ruri Goko is voiced by
How Well Known | 3
Love Hate | 64
Ruri Goko is loved by
Ruri Goko is hated by
Favorite Rating | 14
Rating
VS | 6
Ruri Goko appears in the following VS matches
People SEO
Hetalia_Italy
Feb 12, 2016

This show could not have ended better. What a ride. I'm really excited for the next season and what's to come next!

10
Kamisama Kiss
Feb 8, 2016 / Feb 8, 2016
by ilovepizza
Review length: Short
ONE OF MY TOP FAVORITE!!! ~~ The anime is just superb I highly recommend this for those who love Shoujo/Romance/Comdedy/Fantasy/SuperNatural/Demons lover like me ♥
Awaiting for them to update the Season 3 (anime) ♥ its just because the Manga is still on going and I just can't wait !! I'm just waiting for their new release!!
Post a link to an image you want the Anime Characters Database Community to Identify