Lily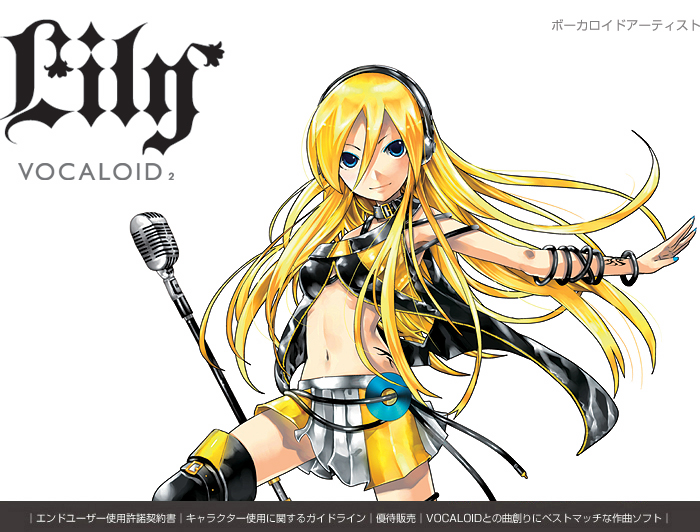 Lily has the following indexed traits
ID

23031

Gender

Female

Eye Color

Blue

Hair Color

Blonde/Yellow

Hair Length

Past Waist

Apparent Age

Teen

Animal Ears

No
Extra Details | 1
JP Voice Actor

Yuri Masuda
Additional Images | 10
Lily has the following additional images
Comments | 4
| | |
| --- | --- |
| | She rocks so hard!!! |
| | |
| --- | --- |
| | You guys don't think she looks like a Rin and Luka fusion, do you? |
| | |
| --- | --- |
| | her voice is hard! |
| | |
| --- | --- |
| | her voice is beautiful to listen! |
Favorites | 38
Lily has been saved as a favorite character by
Ran_Mouri (10 Points) , NiDragon , manppman , Sin1689 , Alien99 , DaarkManson , eu_yuu , dingoscry , westfox , Weirdo , Yurihime333 (5 Points) , ThatAsianGuy , bambi , Anisah-san , JustCallMeSatou , Otaku_here , deadpunkrose , hatsune_miku , drogoth55 , misakithecute , IAmTheUnknown0 , NeonStarbeam (10 Points) , Itachiloveme , StarryKnight , marci , AkemiDouhito , Skull_Flare10 , Watercatflame , cspupluv , LaNita_Z , Hikarihaze , cosplayismything , shima4eva , SabrynaM , anonymous17
Tags | 9
Lily has been tagged as
Assignments | 1
Lily appears in the following
Love Hate | 25
Lily is loved by
StarryKnight, Alien99, AkemiDouhito, Otaku_here, Ran_Mouri, LaNita_Z, Hikarihaze, TiwaLeChaton, anime_lover_333, NeonStarbeam, Yurihime333, eu_yuu, shima4eva, westfox, hatsune_miku, SabrynaM, Watercatflame, Animeanimeanime, Ayano, soul220, wannachangestuff, Weirdo
Lily is hated by
Favorite Rating | 3
Rating
Lily

—Character Review
Rating:

8.33

out of

10


based on

4041

reviews.
VS | 3
Lily appears in the following VS matches
People SEO
Lily
リリィ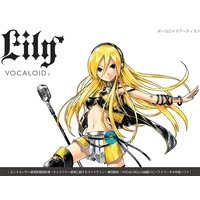 Anime Character
0
http://www.animecharactersdatabase.com/character.php?id=23031
Vocaloid
10
Kamisama Kiss
Feb 8, 2016 / Feb 8, 2016
by ilovepizza
Review length: Short
ONE OF MY TOP FAVORITE!!! ~~ The anime is just superb I highly recommend this for those who love Shoujo/Romance/Comdedy/Fantasy/SuperNatural/Demons lover like me ♥
Awaiting for them to update the Season 3 (anime) ♥ its just because the Manga is still on going and I just can't wait !! I'm just waiting for their new release!!
Post a link to an image you want the Anime Characters Database Community to Identify


SPONSORED LINKS
LATEST FORUM POSTS

Re:Lounge Changes ?
Yeah, I'll also agree with using the discord [more ...]
Posted by Nori13
Thu 1:42 AM

Where is this scene from?
I have watched this scene on YouTube a while ago a[more ...]
Posted by Sakamoto-san
Wed 12:51 PM

Re:Lounge Changes ?
I'd say having the sidebar on the right is de[more ...]
Posted by OMGasm
Wed 1:50 AM

VS
Hackermike8 asks
Who would win in a titfight?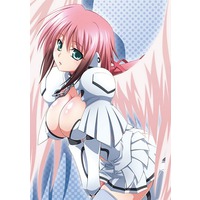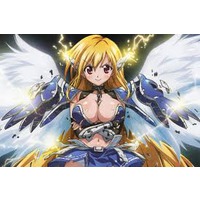 Image Filter
SERVER TIME
9:29 PM, Fri Feb 12 2016
~LOUNGE~

07:42 pm
<
Nori13
> tumblin on tumblr

07:35 pm
<
AniahLiepard
> Put it on Tumblr as well

07:30 pm
<
AniahLiepard
>
LONG MESSAGE NOT DISPLAYED

06:51 pm
AniahLiepard is drawing for DeviantArt

06:45 pm
Maliboria is also fatigued
Chatbox
Popular