Masamune Date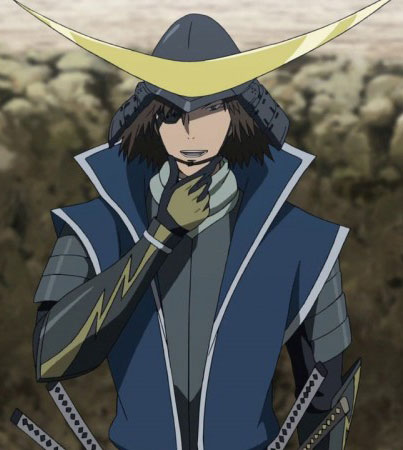 Masamune Date has the following indexed traits
ID

24077

Gender

Male

Eye Color

Brown

Hair Color

Brown

Hair Length

To Neck

Apparent Age

Adult

Animal Ears

No
Extra Details | 1
Title

Big Boss of Oshu
Relations | 1
Masamune Date has the following relations with other characters
These characters have the following relations with Masamune Date
Additional Images | 2
Masamune Date has the following additional images
Comments | 5
AmaterasuWings

- Jan 22, 2014

Is there really a canon, not-implied, romantic relationship between Masamune Date and Sanada Yukimura? Every source I've found says they have a rival relationship, but I've never seen the show, so I wanted to make sure before I deleted the relation.
kyleoconnor

- Jan 22, 2014

Please, no! It makes it adorable!
AmaterasuWings

- Jan 22, 2014

The relation section is for canon (in-universe, verified by the creators themselves) relationships between characters, whether that be siblings, parents, lovers, etc. No matter how you ship it, if they're not romantically involved in-universe, then it doesn't belong in the relations section.
kyleoconnor

- Jan 23, 2014

Either way, I'd ship them together BIG TIME.
kyleoconnor

- Jan 29, 2014

We'll see about that.
Favorites | 21
Masamune Date has been saved as a favorite character by
Tags | 5
Masamune Date has been tagged as
Assignments | 1
Masamune Date appears in the following
Items | 1
Voice Actors | 2
Masamune Date is voiced by
How Well Known | 1
Love Hate | 14
Masamune Date is loved by
Masamune Date is hated by
Favorite Rating | 2
Rating
VS | 12
Masamune Date appears in the following VS matches
People SEO
Hetalia_Italy
Yesterday 09:56 pm

This show could not have ended better. What a ride. I'm really excited for the next season and what's to come next!

10
Kamisama Kiss
Feb 8, 2016 / Feb 8, 2016
by ilovepizza
Review length: Short
ONE OF MY TOP FAVORITE!!! ~~ The anime is just superb I highly recommend this for those who love Shoujo/Romance/Comdedy/Fantasy/SuperNatural/Demons lover like me ♥
Awaiting for them to update the Season 3 (anime) ♥ its just because the Manga is still on going and I just can't wait !! I'm just waiting for their new release!!
Post a link to an image you want the Anime Characters Database Community to Identify