MM! (动画)
Extra Info
Story & Information -
Like this Page
Protagonist
Main Character
Unsorted
User
Rating
May 10, 2015

135

72

55

28

Mitsugu

The Lord and Master of Tedium!!!!!

low


Alot of the punching and kicking do look potentially severe, but 2 secs later the protag is unscathed.
Think of Wile E. Coyote, or Love Hina, but with sexual gratification.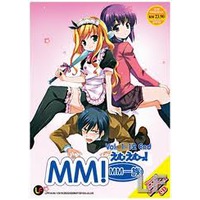 Mitsugu Mouryou's Anime Review



MM! Holy Carp!! I was just fiddling through my archive checking series at random and after 25 secs of playing a single episode… It seemed to be about a super masochistic highschool student getting a royal whooping by a cute purple-haired girl, and at that point I says to my computer: You have my attention. Needless to say form that moment on, I was sucked in.

The plot… There really is none, it's more of a set up. Every episode, in true Harvard Comedy Writing fashion, ends back where it all began. The only continuity of the plot is centered around the introduction of characters. Given there is only 12 episodes, and 9 short 2 min specials, there not much time to have a plot other than: Taro, a first year highschool student, who suffers from severe 'Super Masochism', is advised by his best friend to check out the 2nd Volunteer Club, they may be able to help.
The music: There really isn't all that much to speak of as far as interstitial cues. The open and closing themes aren't much to write home about either.
Voice acting isn't bad at all. The voice actors are quite well chosen in either the EN or the JP versions. As usual there are some extra creative liberties in the choice and phrasing of curse words/terms.
Character design is very good, for the main characters. The rest are just nameless faces in the crowd, who all look the same.
Fun Fact: I became aware of this series why fiddling about through ACDB in my mod journeys, and the character design alone is what piqued my interest, so I then obtained the whole series on impulse only to finally check it out for the first time last night.
Character development Again there are only 12 episodes, and each of the 1st 6 focus mainly on a new character introduction, so not too much in the development department. Every character is you typical anime stereotype: quiet, shy, androphobic; defensive best friend; angry, violent, beauty queen; super genius Lolita; lollicon assistant; and so on.
In conclusion MM! is great if you have about 4½ hours to kill, I enjoyed it, but it is severely lacking in any form of actual plot. Though MM! deals with some very adult themes such as: cross-dressing,; fetishes; voyeurism; incest; yuri; a smidge of yaoi; and more, it is done in a silly yet non-sleazy way. MM! has plenty of humor, very strong 'cartoon violence', yet with no bloodshed or nudity; and a decent amount of foul language, I give it a solid 4.0(out of 10) Recommended for viewing, but no good for background noise due to it being too short, plus it will suck you in!

Thank you
MMAR48


it!

Yesterday 10:51 pm

Anonymous
Who is this ?
JPG
Yesterday 10:51 pm

Anonymous
Who is this ?
JPG
Post a link to an image you want the Anime Characters Database Community to Identify