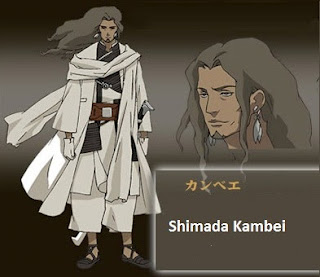 Image Details
Official Details
Eye Color
Brown
Brown
Hair Color
Brown
Brown
Hair Length
To Shoulders
To Shoulders
Apparent Age
Adult
Adult
Gender
Male
Male
Animal Ears
No
No
Date Added
Date Updated
Jan 28, 2012
Relations
Reverse Relations
Character Profile
(カンベエ) Voiced by: Masaki Terasoma (Japanese), R Bruce Elliott (English)

Kambei is a wise samurai who has survived many battles, though he feels no joy from them. Many of his friends have died in those battles, and he was on the losing side of many of them. He constantly lives in the shadow of his painful and violent past, rejecting Kirara after stating that his heart is dried up. He leads the group during their battles and usually plans strategy. In the end, after understanding Katsushiro has become a successful samurai, he passes his sword onto him as he leaves Kanna village ahead of him and Shichirouji. He is the first samurai.

Profile
Last edited by AniahLiepard, Fri, 18 Jan 2013 14:38:17 -0500
If you logged in, you could do the following:
Add this character to your favorites list.
Add a love heart to this character.
Add a hate heart to this character.
Upload additional images.
Edit this character's details.
Tag this character.
Add How Well Known info.
Add or update this character's profile.
Latest Comments
kraizter

She is so cute! :3

Yesterday 09:57 am

Anonymous

I love this show sooooo much! It's really addictive! XD I could watch it again... and again... and again...

Mar 8, 2014
7
Beyblade Metal Fusion / Metal Fight Beyblade
Yesterday 09:23 pm / 12:56 am
by Misty_Dreams
Review length: Average
First off I love Beyblade. I watched it until Beyblade Metal Fury, I stopped because I was busy packing stuff to move ect. Some of the characters annoy me, I really like the graphics on this one (including some other animes). Some anime graphics are either little detailed, too detailed or drawn drawn really bold that watching or looking at will get me a headache. The plot was pretty good and progressive unlike Pokemon, don't get me wrong, I love. Pokemon but the plot was unprogressive and some of the episodes were off the point. There's also one more thing; some of the characters, as the series progressed, got substantially weaker, which irritated me greatly. All in all, I give this a 7 out of 10 star rating. I greatly love Beyblade and I hope to continue watching the anime again soon. ~ Misty
Shimada Kanbei

VS
CalvinClannad asks
Which character is funnier?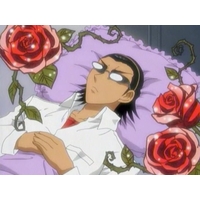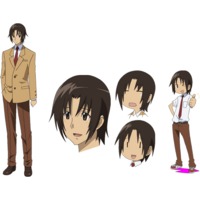 Image Filter
Server Time
6:31 AM, Wed Mar 12 2014

~Lounge~

06:03 am
<
Akikojam
> Ah, ---- it, I'll just vote Suzu from Seitokai.

06:01 am
<
Akikojam
> I can't see a single good option for CotW to vote for. Rias is nice, but she already won too much. And I don't know the other one. There's some character from Kuroinu, which is nice, but not the most interesting one.

05:49 am
Mitsugu fist pounds with jam.

05:47 am
<
Akikojam
> Haha, yeah, I also hate those series.

05:36 am
<
Mitsugu
> Narutards of the world, Assemble!!
The cliff with the diving board awaits!
Onward lemmings.


Join the Lounge
Chatbox
Latest Forum Posts

Re:dark souls !!!!!!
hmm, the whle lore itself, plus this is a game whe[more ...]
Posted by Shinigami_55
Tue 9:27 PM

Re:dark souls !!!!!!
Any particular part that stood out to you in the l[more ...]
Posted by gantagunguy101
Tue 6:51 PM

Re:dark souls !!!!!!
It has a wonderfull lore, and its challenging enou[more ...]
Posted by Shinigami_55
Mon 8:04 AM

Popular