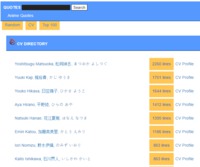 I've put together a
directory of Japanese voice actors with Quotes today.
It's a little tricky to optimize, so it's limited to just the Top 50.
--
On a bit of a personal note, I'm working on changing my work style.
I have long had a bad habit of burning all of my energy to get things done immediately. Which, is not the smartest thing to do. I mean it would be fine if I could bury myself underground, or lock myself in a coffin for a few days while I reincarnate, but - life goes on and things requiring energy never leave me alone long enough. And doing things that require energy when you have no energy, is profoundly unpleasant. There is absolutely no amount of joy that could be added to my life to make me on balance "happy". But were I to remove the sources of my own unhappiness, I'd be super happy! So. haha
I've got quite the challenge ahead. First recovering my energy. Second, increasing my energy through better eating and more routine exercise. Third, and most important - stopping myself from spending all of my energy in one go.
Today we hit 100,000 characters.


A shoutout to rpgguy999 for adding Character ID 100000

Top 10 contributors for the last 1000 were:

Hirunapyeer 415 characters
Moon_Moon 224 characters
rpgguy999 156 characters
Rei 88 characters
Froylan 28 characters
Darkfighter 25 characters
yogurt99 20 characters
naofumi 16 characters
Rinzel 9 characters
ShinyShinigami 5 characters
News Editor now correctly enforces limits on Headline and Body length.
--
On submitting a new Report, a site alert will be sent to Rei
--
Newly added characters not appearting in Search Results has been resolved.
Which in turn broke Visual Searches filtered with a date.
Which is now fixed.

Upon further investigation, it turned out a cron script that was supposed to update the character cache failed to run.
or more specifically "mysql" was not in the $PATH of cron xD
Fixed that, so hopefully the latest characters will sync with the cache daily.

Members, however, will get live results. So newly added characters will be searchable right away.
--
Enabled the Delete button for the Reports system, as it had collected a bit of spam.
Also cleared off my old reports, and addressed the broken search reports.
--
The Add a Character link from Characters Hub has been removed. Please look for the link on the Series you wish to add a character to, or use the Sandbox to create a new title.
The old system of "image + name" has been retired.
--
We've been getting some high traffic lately. I may need to look into way of better optimizing the site.
--
Character text Profiles have been reworked a bit. They are now keyed to the langid...
Previously it would bring up both english and japanese profiles, and when adding one - update the langid keyed reference.
The editor has been improved to include the contents of the profile - allowing for, actual editing. lol
Probably still A LOT more work that could be done here, but this at least allowed me to correct a character's profile.
--
Also released a little too soon - Contribute Quotes


I've been repurposing the last comment system I developed to serve as a framework for contributing quotes.

At present, this is all separate from character profiles. But will be connected to them - eventually.
---