| | |
| --- | --- |
| Total Members: | 28972 |
| Members seen past 30 days: | 1026 |
| Members seen since midnight: | 58 |
Members seen last 60 seconds
Members seen since midnight
OMGasm, Mitsugu, Ryuushima, Akikojam, Rei, DaZEROrk, Onineko, SKyongmania, iMox, derekmatt85, Drago530, osh5690, ANIMazer, gaslighting, Stavri, Solorin, Skull_Flare10, LiCobra, soul220, DeKnijff, chynamoroll, Eiki-sama, Slithern, Yop1000, kyla_faye, Nelsonma11355, fatlogic, geol88, SplendidNakedButtPirate, Sasori6744, AnimeOtaku313, Ryujin_Saotome, masterchristian, titus_crow, KurosakiIchigo, ZEERO44, ravenlord, mistos, mamori_auros, kaito17, JustCallMeSatou, vdh, AmaterasuWings, Fredho_p18, PuppetearMaster, Lozkax, CaptainBrain, uzimaki, Hetalia_Italy, CalvinClannad, nao10, Abeltrx, artmaster, Linkinero, Tannim07, RenMakoto, bluejayr, amy552
| Date | Members that were online |
| --- | --- |
| 2014/08/24 - Sunday | 175 |
| 2014/08/23 - Saturday | 156 |
| 2014/08/22 - Friday | 162 |
| 2014/08/21 - Thursday | 159 |
| 2014/08/20 - Wednesday | 171 |
| 2014/08/19 - Tuesday | 168 |
| 2014/08/18 - Monday | 168 |
| 2014/08/17 - Sunday | 158 |
| 2014/08/16 - Saturday | 176 |
| 2014/08/15 - Friday | 155 |
| 2014/08/14 - Thursday | 165 |
| 2014/08/13 - Wednesday | 174 |
| 2014/08/12 - Tuesday | 169 |
| 2014/08/11 - Monday | 150 |
| 2014/08/10 - Sunday | 176 |
| 2014/08/09 - Saturday | 171 |
| 2014/08/08 - Friday | 178 |
| 2014/08/07 - Thursday | 196 |
| 2014/08/06 - Wednesday | 187 |
| 2014/08/05 - Tuesday | 185 |
| 2014/08/04 - Monday | 206 |
| 2014/08/03 - Sunday | 186 |
| 2014/08/02 - Saturday | 174 |
| 2014/08/01 - Friday | 166 |
| 2014/07/31 - Thursday | 174 |
| 2014/07/30 - Wednesday | 179 |
| 2014/07/29 - Tuesday | 179 |
| 2014/07/28 - Monday | 181 |
| 2014/07/27 - Sunday | 193 |
| 2014/07/26 - Saturday | 187 |
| 2014/07/25 - Friday | 178 |
| 2014/07/24 - Thursday | 178 |
| 2014/07/23 - Wednesday | 187 |
| 2014/07/22 - Tuesday | 184 |
| 2014/07/21 - Monday | 182 |
| 2014/07/20 - Sunday | 175 |
| 2014/07/19 - Saturday | 169 |
| 2014/07/18 - Friday | 165 |
| 2014/07/17 - Thursday | 176 |
| 2014/07/16 - Wednesday | 165 |
| 2014/07/15 - Tuesday | 169 |
| 2014/07/14 - Monday | 176 |
| 2014/07/13 - Sunday | 181 |
| 2014/07/12 - Saturday | 183 |
| 2014/07/11 - Friday | 158 |
| 2014/07/10 - Thursday | 188 |
| 2014/07/09 - Wednesday | 171 |
| 2014/07/08 - Tuesday | 172 |
| 2014/07/07 - Monday | 184 |
| 2014/07/06 - Sunday | 203 |
| 2014/07/05 - Saturday | 186 |
| 2014/07/04 - Friday | 165 |
| 2014/07/03 - Thursday | 190 |
| 2014/07/02 - Wednesday | 179 |
| 2014/07/01 - Tuesday | 167 |
| 2014/06/30 - Monday | 173 |
| 2014/06/29 - Sunday | 186 |
| 2014/06/28 - Saturday | 177 |
| 2014/06/27 - Friday | 163 |
| 2014/06/26 - Thursday | 175 |
ANIMazer

Never mind, there was a picture of her where you can see her eyes in this section. But you never see them in the anime though, that´s strange...

06:34 am

Akikojam

Good question. The original title seems to be just a "Hooligan", so makes me wonder where the other part of it comes from. Well, jap to eng title translations often seem to generate additional words. Seeing how this is the same Frontwing that made Grisaia, I kinda doubt they'd have a title this lame...

02:11 am
VS
Akikojam asks
Haganai vs Oreimo (the out of the loop girl)
Popularity poll. Both are interested in the protag, but are generally left out of the main team. And both don't get along with the main heroine.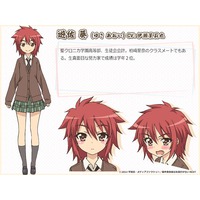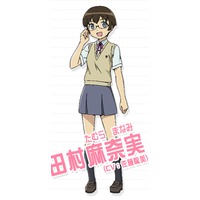 Latest Forum Posts

Re:Name an Anime where..
Well, i'm recently watching Baka to test seas[more ...]
Posted by TheAnimer
Thu 9:03 PM

Name an Anime where..
the main character/one of the main characters is i[more ...]
Posted by ermin96
Thu 2:11 PM

Certified Otakus
Kon'nichiwa..Minna-san [url=http://moe.animec[more ...]
Posted by KurokoMisaki-chan
Sun 10:54 PM

Image Filter
Server Time
8:00 AM, Fri Oct 24 2014
~Lounge~


Join the Lounge
Chatbox
Popular