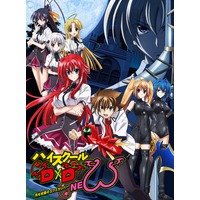 For those who have watched DxD and are wondering if DxD NEW is worth watching .... my answer would be no.

It's like whoever was working on the story had been looking over an abundant amount of source material and decided to throw EVERYTHING in. Angels. Fallen Angels. Mages. Vampires. Priests. Fallen Angels who are demons. Demons who are vampires. Vampires that control time. Mages that want to rule the world. Dragons. Oroborous. Student Council. Occult Club. Sacred Gears. Balance Breakers. Magic. Holy Swords. Unholy Swords. Pocket Monster Summons. Traps.

It's not like Fairy Tail, where they take a good long time going from setting to setting in a fantasy world. DxD in a fraction of an episode will drop something big, then move onto something else not bothering at all to develop anything.

About the only things that remain true in this series .... Rias is hot. And Issei loves big boobs.
---