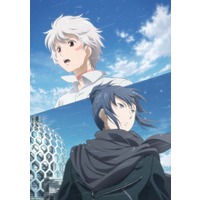 It's been a while since an anime made me cry like a baby.

~

The Story...
No. 6 centers around a young boy named Shion, an intelligent- yet naive- young boy who lives in the "ideal" utopia city known as "No. 6." He would enroll in the Special Curriculum for gifted students until his life changes when he saves the life of Nezumi, a wanted fugitive who defied the laws of the city. Nezumi, injured by a gunshot, seeks shelter in Shion's home, to which the latter lets the former stay despite Nezumi being a fugitive. Shion treats the wound and provides hospitatlity to Nezumi, and the two bond greatly soon after.

A few years pass after this incident, and Shion is now sixteen years old. He works in the Park Maintenance of No. 6 with his friend Yamase. The two discover the body of an apparently old man in the park. The incident was not aired on the news, which leads to Shion's suspicion, and he soon discovers that the body belonged to a man who was only 31 years old. Shion later witnesses Yamase age rapidly and die as a type of wasp emerges from his neck. The police look into the death of Yamase, then arrest Shion under suspicion of murdering Yamase.

Shion is soon rescued by Nezumi and the two escape the boundaries of No. 6, known as West Block, the slums outside of the city. Nezumi shelters Shion in his home and it is revealed that Shion has been infected with one of the parasite wasps, the same that killed Yamase. He nearly dies, but Nezumi saves his life by removing the wasp egg from his neck. Due to previously being infected by one of the wasps, Shion's appearance changes greatly. His hair turns white and his eyes turn red, and a huge pink scar wraps around his body from his ankle to his neck.

~

Characters
Alright, I loved almost every character in this. Rikiga and Inukashi brought happiness and hilarity to this show. Karan provided that motherly view to Lili and made me feel content about their fate. Oh, and Nezumi and Shion... those two will be the death of me. Their undying support for each other was the sweetest thing in this whole show. The only character I didn't really like was Safu. She was annoying and she almost took things way too far with Shion. Overall, the characters are unforgettable and I'm glad they took me on this journey.

Animation/Art Style
The art style is beautiful. Sure, the characters look a little average, but it's nice to have an anime that doesn't have these brightly coloured, abnormal characters! It was satisfying to have realistic characters dealing with serious conflict. The scenery is beautifully drawn and designed. I love the appearance of the gorgeous No. 6 and the cold, post-apocalyptic feel of West District.

Music
The soundtrack is pretty cool. The music in each scene fit well with the situation and provided a good feeling involving the atmosphere. The opening song is "meh." Oh, but the credits song was wonderful. It managed to make me cry when it was playing in the background in the final episode.

Overall
This was a wonderfully executed anime with a great story. With unforgettable characters, an interesting conflict and backstory, pleasing art style, and a very good soundtrack, this anime is a must-see for fans of the post-apocalyptic genre who want a taste of action, adventure, and a little gay romance (heehee).

There are 11 episodes total. The anime can be finished in about 4 hours, with each episode ranging from 20-22 minutes. It's really worth the time.

No. 6 was a very great series that I enjoyed very much. I recommend it highly, giving it a 9/10.


---