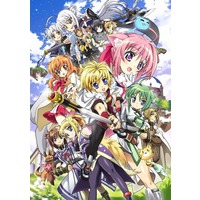 Are you looking for a good action/adventure anime? Well, you have to watch Dog Days.

It starts out in the enemy camp, where the leader of the besieging army is issuing orders to the general. The besieged commander is has thought of a way to turn defeat into victory by summoning a hero.

In Japan, Cinque Izume, a teen aged high school student, is pondering his athletic training schedule for the upcoming spring break. While jumping off the school roof, Cinque fall through a summoning circle and transported to planet Flonyard where he meets his summoner who explains how and why he is there. War on Flonyard is different. War is an sporting event where the populous and nobles compete.

Cinque accepts his role as Hero and helps the besieged army win the battle, a bitter sweet victory as he finds out he can not go back home.

This is a story about love, friendship and determination to keep a promise to return. I loved it! I give it a 9.4.
---