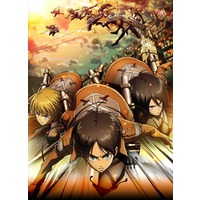 Attack on Titan

This review is totally on the anime as I have yet to read the manga. Trust me, I intend to. What can I say? This is how you do an anime. Wow! Thank goodness that I waited until it was complete to see it. I would have busted my computer waiting for the next episode. Every episode left a cliff hanger of epic proportions. If you haven't seen it, definitely put this one on you to watch list.

You're probably thinking he's gonna give it a 10/10. Not so fast, there were some problems that I have to point out. There was no back story. Not necessarily a bad thing, most come back to it at a later time, thus read the manga. No character development. You are introduced to a whole troop of characters that don't change. You only get glimpses of the characters past with very little relevance. It's not all bad. Fast paced action keeps the anime moving to its conclusion.

All in all, it's a great anime. The fact that there was no back story, poor character development, and I couldn't connect with the characters, made this a good anime. I give an 8.3/10.
---