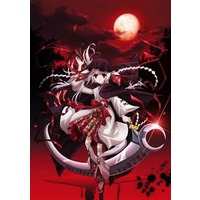 This anime is pretty good. It may not be the best I have ever watched, but it's certainly in my list of favorites.

I really enjoyed most of the characters and the story line was nice, however it was rather confusing. For one thing many of the events went unexplained up until the very end of the anime. Don't get me wrong, I love when things are held out until the near end, but trying to guess what was going on really took away from the story for me. It was difficult to figure out exactly was the deal with all the people in the town. I found it a little difficult to focus on the story sometimes, as I got caught up on tiny details that made me think a little too much or made my imagination run a little wild.

I went into this anime expecting something amazing, I mean, the title, characters, and main gist of the story just jumped out at me. But, I have to admit that it didn't exactly live up to my expectations. But it definitely didn't fall too far under them either. Ookami Kakushi has a creepy vibe to it in some areas...but I enjoyed how the creep factor wasn't over-the-top. It also gained some extra points when the gore was kept on the down low. Don't get me wrong...I totally love a little bit of gore sometimes...But, occasionally I feel that gore can take away from certain story lines.

On a plus side: Ookami Kakushi managed to hit a few nerves along the way. I love when an anime has the ability to jab my feelings, either in good or bad ways. Some sections made me feel extremely happy, while others brought me down a little.

Main Downfalls: Confusing story, fast paced, some flawed characters and events.

On a side note: Isuzu and Mana had a tendency to annoy me. But, with that said, every anime has its characters that I find a personal distaste to. Though, I can see how others may relate and find a liking towards them.

In the end, I have to give this anime 7 stars. It was good, the art style was nice, and the story was decent, but it confused me in many places and a few of the characters made me cringe.
---