Transcript
-
375 new quotes
Summertime Render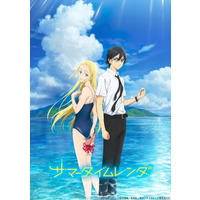 Shinpei and Mio discuss about the shadow beings, and worried about Shiori, Shinpei goes down to her family's house along with a neighboor.
Arriving at the house, they notice that nobody seem to be home. Inside the house, they find a table set with untouched food and many dark marks on the floors and furniture.
Shinpei is confronted by a shadow but gets saved by the neighboor before something bad happens.
After assessing the situation together with Mio, Shinpei decides to tell everything to Sou, and they form a team to investigate the shadows and talk to the shrine priest.
Featuring Characters
Alain Kofune
|
CV: Tesshou Genda, 玄田哲章, げんだ てっしょう
| 2 lines
Mio Kofune
|
CV: Saho Shirasu, 白砂沙帆, しらす さほ
| 43 lines
Nakamura
|
CV: Takehiro Hasu, 蓮 岳大, はす たけひろ
| 10 lines
Shinpei Ajiro
|
CV: Natsuki Hanae, 花江夏樹, はなえ なつき
| 157 lines
Shiomi
|
CV: Sachiko Honma, 本間沙智子, ほんま さちこ
| 23 lines
Shiori Kobayakawa
|
CV: Rie Kugimiya, 釘宮理恵, くぎみや りえ
| 11 lines
Sou Hishigata
|
CV: Kensho Ono, 小野賢章, おの けんしょう
| 65 lines
Tetsu Totsumura
|
CV: Yoji Ueda, 上田燿司, うえだ ようじ
| 20 lines
Tokiko Hishigata
|
CV: Maki Kawase, 河瀬茉希, かわせ まき
| 10 lines
Ushio Kofune
|
CV: Anna Nagase, 永瀬アンナ, ながせ アンナ
| 2 lines
Try Out Quote Games
Quote Trivia
Quotes to Learn Japanese Game
Quotes to Learn Japanese Game (Audio Version)
Quote Lists
Transcript
-
412 new quotes
Ya Boy Kongming
The prodigious military strategist Zhuge Liang Kongming is in his deathbed. At the end of his days, he only wishes for peace and to pass on into a tranquil life without wars.
Kongmin wakes up in the middle of the streets, in Japan's biggest halloween event: Shibuya's Halloween street party.
Undoubting that this was hell, Kongming is taken into the mass of the crowd and decides to raise right there an army of demons.
Upset about yet another audition rejection, Eiko Tsukimi slips away from the bartending counters and takes the stage of the night club. In between all the ear piercingly loud EDM music, Kongmin finds peace in Eiko Tsukimi's voice.
Kongming is quick to praise Eiko's voice, something she hasn't heard much before.
After a night of hard partying, the war strategist was left on the streets, only to be rescued by Eiko.
They both bond quickly over music and Kongming is ready for taking a new job, a bartender alongside his new friend.
After a heart to heart, Kongmin and Eiko firms their partnership in a surprising proposal.
Featuring Characters
Clubber
|
CV: Shougo Sakata, 坂田将吾, さかた しょうご
| 13 lines
Clubber 2
|
CV: Kazuki Miyagi, 宮城一貴, みやぎ かずき
| 7 lines
Eiko Tsukimi
|
CV: Kaede Hondo, 本渡楓, ほんど かえで
| 132 lines
Kobayashi
|
CV: Jun Fukushima, 福島潤, ふくしま じゅん
| 45 lines
Kongming Zhuge
|
CV: Ryotaro Okiayu, 置鮎龍太郎, おきあゆ りょうたろう
| 180 lines
Liu Bei
|
CV: Daisuke Namikawa, 浪川大輔, なみかわ だいすけ
| 4 lines
Try Out Quote Games
Quote Trivia
Quotes to Learn Japanese Game
Quotes to Learn Japanese Game (Audio Version)
Quote Lists