Minor Character Appreciation Guild
So, an anime or game has a bunch of heroines, some nice, some annoying. Cool. But what about this cute girl/epic dude? Just a minor character. Barely any interaction, no scenes, maybe even dies in one of the first episodes. Not cool.
Basically, this is a guild for those who don't only pay attention to the main characters, but can appreciate minor ones.
Copyright © Goral Software | Privacy Policy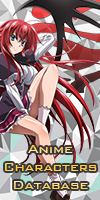 Go to Desktop site