359 new quotes
Kuma Kuma Kuma Bear
-
Episode 3 Quotes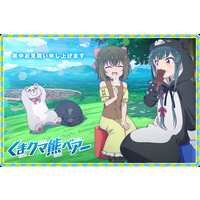 Full Transcript
Yuna-chan
daisuki!!! Such a fun personality.

This series got off to a bit of an awkward start. EP1 may show her playing a game, and EP2 is the beginning of the iseikai story.
She can do any magic she can imagine, so long as the image contains a bear.
Her power seems to depend on always wearing a bear suit.
Plus God will occasionally send her mail.
I dunno about you, but I love this one.