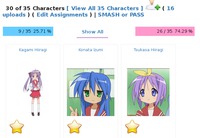 Look for the SMASH or PASS link in the Characters header for a series profile.
SMASH or PASS Lucky Star
---
Also patched the game to handle correctly an error when your filter matches zero characters.
---
Latest quotes:
Goblin Slayer - Episode 7
quotes are up with audio. That ep sure came close to a bad end! Luckily the High Elf Archer and Priestess were saved by Goblin Slayer just in time.
---
And fixed Contributed Quotes on character pages to correctly show the 7 top rated quotes.
So kinda how this works right now is .....
IF episode quotes: prioritize audio, order by random
IF NO episode quotes, show contributed quotes, order by points
---
Looking into using
Game of Trees
for version control - when they have a non-OpenBSD source code release that is.
---
I've also switched from doing sword arts to staff arts for martial training. Because swords break too easily. I could break my steel swords with just my fists, quite easily... :S A least a 6 foot metal staff has a better durability factor !
---