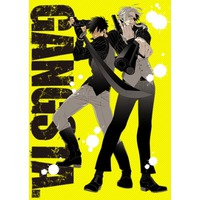 I went into Gangsta expecting a pretty simple, "cool" shounen anime about gangsters and scandal. What I got was that, plus a heaping helping of intriguing character drama with a dash of supernatural elements.

Story
Gangsta (mainly) follows the story of a city divided by violence and discrimination. In this city, there are humans with supernatural strength and agility called "Twilights", and in this city, you either want to protect the Twilights or you want them all exterminated. And in the midst of this city is a former prostitute named Alex, who meets two "Handymen" named Worick and Nicolas and gets a front row seat to their conflicts with the city's citizens, police force, and other Twilights. I was immediately drawn in to the story of these characters - however, the pacing, which started out so strong seemed to fall apart in the last four or five episodes, going from too slow to too rushed in different scenes. And the last episode ended right in the middle of a big, unresolved conflict - I get that studios want to hype up a second season, but the ending was abrupt and very graceless.

Characters
This is definitely the strong point of the series. The main characters' backstories were well-explored, especially Worick and Nicolas. I could have watched an entire show just about how they met and their childhoods. The reveals are well-timed too. Every time I started to question a character's actions or motivations, more of their past would be shown. I also give a lot of credit for exploring some very dark themes with a surprising amount of grace. Child abuse, discrimination/prejudice, PTSD, and sexual abuse are just some of the things that these characters go through. These elements were handled very well and gave the characters more depth instead of just trying to make you feel sorry for them. As a side note, this is the first time I have seen a deaf person as a main protagonist in an anime, and I loved all of Nicolas's signing scenes. The creators obviously did their research on sign language.

Animation/Style
Definitely the most noticeable cool-factor of the show. The animation was fluid and awesome to look at, especially during the early fight scenes. The scenery was also nicely detailed, and nothing every stood out to me as "wrong". I will say that some of the character designs can be a little samey - I mostly noticed this with some characters we didn't see in every episode, like the police force members and other gangsters living in the city. But there is a noticeable downgrade in quality in the last four or five episodes, which makes sense when you learn that the studio, Manglobe, went under after Gangsta was released. Knowing this, it's very easy to tell that they had less to work with the further they worked on Gangsta.

Sound
This show has a great soundtrack. It's a nice mix of more traditional anime background music and dubstep-y, electronic music, which was never overused. They used the music theming to their advantage - I always this were getting serious when this track kicked in, never failed to give me chills. The opening and ending themes were also great - I had to download the opening because it was so catchy and fit the show so well. The ending also has a nice touch, ending with Nicolas signing along with the lyrics. The voice acting was also phenomenal for this, with Nicolas's VA, Kenjirou Tsuda, being the major standout. Nicolas is a deaf character, and anyone who has ever heard a deaf person speak instead of sign knows that they can have a unique way of speaking, because of course they can't hear themselves. Tsuda knocked it out of the park - it never sounded silly or forced, I completely bought that this was a deaf person speaking.

Overall
So much potential for an amazing series that fell just a little short in the hands of a failing animation studio. If you're the type who enjoys character-based action anime, and you tend to watch anime more than you read manga, I'd say definitely check this out. However, it might save you some time just to skip right to reading the manga, because for right now, it looks like that's the only way you're going to get the full story. It's a shame that we probably won't see another season animated.
---
---
Be the first to have your name here. Simply support the site via PayPal or Patreon.
The dollar amounts you contribute will be available for you to apply to any page you choose. PayPal donations will be applied to your account within 24 hours, and Patreon pledges will be applied by the 2nd week of the following month.
---
---
PLEASE READ :: I need your help identifying what on ACDB is of value to you. You can do this by sponsoring pages with your jewels. Simply go to the page you like, scroll down to 'Sponsored with Jewels' and fill out the short form with the amount of jewels you wish to apply. The are not subtracted from your account, and there is a restriction you can not sponsor in total for more than what you have. You can also change the amount at any time.
Bookmark this Page