Achievements List Updated
Been building an achievements listing to help members get the most out of ACDB.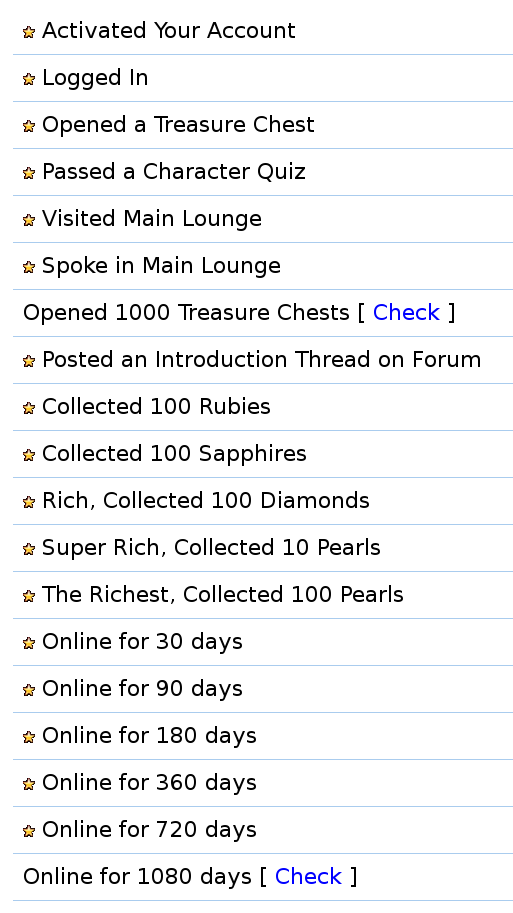 Treasure Hunting is been updated to be a little more event oriented.

First set of changes :

- Cards are no longer available on the first chest of the day.
- Chests no longer have a random chance of issuing a card.

Second set of changes

- For the first 15 minutes of every hour ( server time ) there will be an event where all chests contain cards. You will have a 100% chance of getting a card.

- There is a cap now of 200 chests per day that can be claimed per member.
- Anyone caught cheating will be risking have a cap of 1 chest per day imposed on their account.


We'll be changing the images.
Make your own quizzes, and take quizzes make by members.

Even without an account, you'll be able to make and take quizzes.


I started coding last week. Hopefully by the end of the month this feature will be a game changer for ACDB.

Another project in the works is adding compression support to our image servers. By compressing images before sending, it'll mean we can upload more images, faster.

The new server has been working out amazingly well. I'll be canceling the old server this week.
You can now add notes to Series pages

I'm using this to comment on the vast number of episode one's coming out this month.
I've been playing around with SSL support.
https://www.animecharactersdatabase.com/
will allow you to use ACDB via SSL.
Making a self-signed cert can be scary, but here is how I did it :
rei@animecharactersdatabase:~ %
/home/rei/ssl/bin/openssl req -newkey rsa:4096 -sha512 -x509 \
-keyout server.pem -out server.pem -days 365 -nodes
Generating a 4096 bit RSA private key
..................++
..................................++
writing new private key to 'server.pem'
-----
You are about to be asked to enter information that will be incorporated
into your certificate request.
What you are about to enter is what is called a Distinguished Name or a DN.
There are quite a few fields but you can leave some blank
For some fields there will be a default value,
If you enter '.', the field will be left blank.
-----
Country Name (2 letter code) [AU]:.
State or Province Name (full name) [Some-State]:.
Locality Name (eg, city) []:.
Organization Name (eg, company) [Internet Widgits Pty Ltd]:Anime Characters Database
Organizational Unit Name (eg, section) []:.
Common Name (e.g. server FQDN or YOUR name) []:*.animecharactersdatabase.com
Email Address []:ssl@example.com
rei@animecharactersdatabase:~ % cp server.pem /var/www/etc/
It's kinda fun to see
how it's rated
Strong security with no trust. xD
Personally, I consider paying money for a "signed" SSL certificate akin to being a victim of an extortion racket.
Series pages now have a VA tab which lists all voice actors assigned to that series.
ACDB is running on new hardware and new software as of September 25th, 2014, 7:30PM
We have new IP's.
IP version 4 : 162.208.49.170
IP version 6 : 2607:2200:0:2356::acdb
We've upgraded from FreeBSD 8.0 to FreeBSD 10.0
We have a new CPU !
CPU: Intel(R) Xeon(R) CPU E31270 @ 3.40GHz (3392.40-MHz K8-class CPU)
CPU: Intel(R) Xeon(R) CPU X5670 @ 2.93GHz (2926.01-MHz K8-class CPU)
We have more RAM. Previous 8 GB , now 16 GB .
We have more HD! Previous 80 GB , now 500 GB .
Our hosting costs have gone up a bit. Previous $89 US/month , now $109 US/month .
lighttpd, and mysql have also been upgraded.
We've been renting the same VPS server since 07/18/2010. Now we have our on dedicated hardware.
The VPS has been insanely stable. Only once was it rebooted, as per the hosting company doing upgrades.
That was nearly 700 days ago. Not one crash ever! I do hope this new server is every bit as stable and problem free.
Cost of running ACDB since 07/18/2010
I've switched us over to a new temporary data server solution. There shouldn't be any major problems beyond being logged out of the site. Or being unable to log in for a brief moment.

I'll be running this test for a couple of days, and should all go well, I'll make the transition to the new server next week!
a new feature for character pages
The
Note to Self
. Different from a comment, it is visible only to you at the top of a character page. Later this will be made visible to all members on a separate link. The idea is to be more informal ... you can write whatever you think of a character without being open to criticism/agreement or disagreement.