Reborn! (Anime)
Extra Info
Story & Information -
| Type | Artist | Song | Tags | Genre | Notes | Options |
| --- | --- | --- | --- | --- | --- | --- |
User
Rating
Aug 28, 2014

7

82

83

arlen131095

HIGH


Aug 28, 2014

30

92

50

nao10

HIGH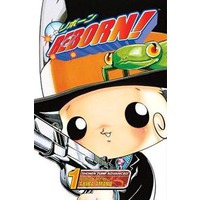 I was suggested this anime on the basis that I liked the way one of the characters looked, and I fell in love. I really haven't been able to find another anime that I will actually sit down for copious hours just to finish a season. I also have not had another anime that even after watching the anime, I go and read the manga, as well as study each of the characters even if I do not particularly like them.

I have to point out that the way the anime ends is rather unfortunate, considering the amazing things that come after the ending point of the anime in the manga. Also, the long battle scenes did get a bit annoying and didn't manage to capture me like the rest of the plot did.

Also, the fact that this is an anime focused more toward young teen boys and did not have any fan-service in it is a major plus from me. The few female characters, such as Bianchi and Lal, that are in this anime were respectful and even added to the plot. I rather enjoyed watching an anime of this genre that did not have cleavage and pantie shots galore.

All in all, this is an excellent anime that I would recommend to anyone, and have already recommended to several. I would most certainly suggest the manga as well, considering it does have more details, despite the one character with massive cleavage, than the anime does and is extremely enjoyable. Reborn! is an anime that, even if you don't necessarily always like this type of anime, anyone can enjoy despite their age or gender. I know I did.
Hetalia_Italy
Feb 12, 2016

This show could not have ended better. What a ride. I'm really excited for the next season and what's to come next!

10
Kamisama Kiss
Feb 8, 2016 / Feb 8, 2016
by ilovepizza
Review length: Short
ONE OF MY TOP FAVORITE!!! ~~ The anime is just superb I highly recommend this for those who love Shoujo/Romance/Comdedy/Fantasy/SuperNatural/Demons lover like me ♥
Awaiting for them to update the Season 3 (anime) ♥ its just because the Manga is still on going and I just can't wait !! I'm just waiting for their new release!!
Post a link to an image you want the Anime Characters Database Community to Identify