I've added additional names to the Show All characters view.
My Hero Academia
is starting to have a lot of characters, so this should help avoid ( myself ) adding duplicates due to someone having their real name instead of their hero name, etc. xD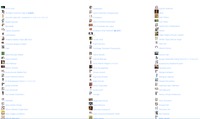 I've also launched a
Survey
. Members can vote once, everyone else can vote once per IP.
I'm thinking I may need to do a little more detailed of a survey.
I'll let this run a while yet though. As my thoughts are shifting to the appearance of the site.
Has the site ever looked good? If so, I could revert back to one of those themes.
Side menu, no side menu?
HUGE HEADER, small header, no header?
Drop down menu, no drop down menu?
Oh and colors .... so many possible color combinations O_O
As tempted as I am to hire a professional, now that I know how they operate, I can do it myself.
Likely what it'll come down to .... I'll craft a bunch of mockups, then do a survey. Maybe put them to a 5 star vote.
Hey you! Do you want to enter a mockup? Have it ready sometime in October, and you can compete against me.

Here's our
TEMPLATE
- do your best!
| | |
| --- | --- |
| Bookmark this Page | |