Made a slight improvement to the character name search, such that if no results are found on the first pass when searching two names, it will reattempt the search after swapping the order of the names.
Before,
a search for Izumi Konata
would have returned no results.
Now, Izumi Konata finds Konata Izumi
Having learned from last time, this time I am making Side Menu's available as an OPT-IN feature. You can find the toggle in the footer of the site, to the far left. Click it once, and the sides will be enabled. Click it again to make them go away. Or visit
this page
to turn just one off.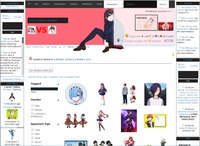 Toggle is in footer:

I may have written this code months ago, but it felt experimental so I left it disabled ... well, here's hoping it works! xD
Once in a while I get a request that leads to an idea I have to wonder, why didn't I do that before?
After writing 1300 lines of code over 3 days and nights ... the answer is rather clear. It's a lot of work! lol
The end result, totally worth it!
I'm adding in 6 new options for filtering ( technically 8, but 2 became too low priority ).
Wearing
We've been indexing characters with 30 differt outfits - have a look what comes up!
Year
this can filter characters down by the Year the series they are primary assigned to
Type
Now you can explore some of the other types of characters on ACDB, or filter all but Japanese Anime
Media Type
Movies, Games, etc
Role
Looking for main characters? Antagonists? Protagonists?
NSFW
Show only SFW characters, or take a glance at NSFW characters
What are you waiting for?
Give it a try!
| | |
| --- | --- |
| Bookmark this Page 1 like | |