I'd been wanting to add Watching information to the
Daily
, and ended up looking over my code finding even more interesting things to add.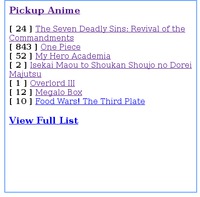 I came across this which was very simple and engaging. It's now back in the footer of the site :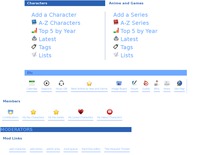 Replacing the 5 latest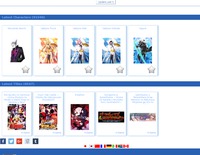 I've also pinned 3 links to the top of the site.
Welcome
Daily
Donate
While we're not doing great financially, we do have 9 people that have pledged nearly $50 in total. This will cover close to half our server bill next month. I thank you all for your support!
I cleaned up some of the clutter with 'Sponsored with', adding a click to use option.
Game -≻
DAILY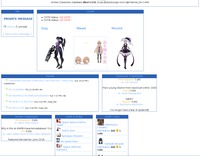 The code I created during the side menu's experiment, I wanted to try reusing somewhere in combination with flexbox. Daily seemed a good fit. xD
Organize Your Favorite Characters
I've started bringing back this tool for organizing your favorite characters. It's just a starting point right now. I'm open to new ideas how to make it work best for you!
Currently there is quite a problem if you have a lot of favorite characters.
| | |
| --- | --- |
| Bookmark this Page | |