Latest update, I've added a trait filter to tags.
Making it easier than ever to find very specific characters.
Like characters with a
very long pony tail
.
Also added a search box to the right, and a Search Results indicator to hopefully make that make more sense.
~~~
I've also launched the redesign of series pages. With a focus on utter simplicity. Members will get a listing of characters plus a Star allowing them to easily add/remove favorite status.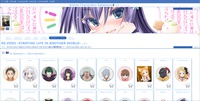 And hopefully it should be easier than ever to add a character, click that ( + Add a Character ) link!
There's also an All Character mode, that'll reallly show them all in alphabetical order like so :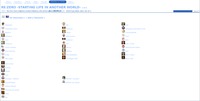 I've also been cramming even more things into the
Daily, so be sure to check that out often for a quick recap of what's been happening on the site!
At this point, I've applied the Character Layout to
- Character Profiles
- VA Profiles
- Series Pages
- Tags
I've also brought back the chatbox for members. Feel free to use it ~
Wonder what I should work on next ... feel free to share your ideas on the
forums
.
I'd been wanting to add Watching information to the
Daily
, and ended up looking over my code finding even more interesting things to add.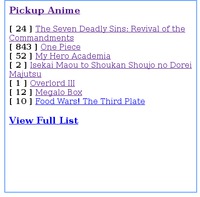 I came across this which was very simple and engaging. It's now back in the footer of the site :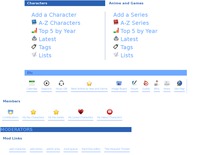 Replacing the 5 latest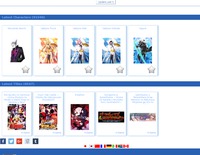 I've also pinned 3 links to the top of the site.
Welcome
Daily
Donate
While we're not doing great financially, we do have 9 people that have pledged nearly $50 in total. This will cover close to half our server bill next month. I thank you all for your support!
I cleaned up some of the clutter with 'Sponsored with', adding a click to use option.
Game -≻
DAILY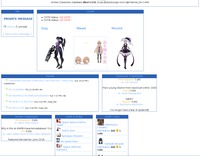 The code I created during the side menu's experiment, I wanted to try reusing somewhere in combination with flexbox. Daily seemed a good fit. xD
| | |
| --- | --- |
| Bookmark this Page | |