It's been about a year now, and I'm still slowly working towards my goal of indexing 100,000 lines. More than half way there now!
I've updated
Episode Transcripts
to have a default mode of listing available episodes.
Also updated
Top 100 Promoters of Mai Husbando
and
Top 100 Promoters of Mai Waifu!
to look a bit nicer.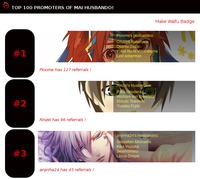 I've restored some features on source.php that had stopped working. Clicking the links at the top of a series page, like Reviews and Similar should now take you to the correct location on the page.
I'm a little curious if I should revive
Episode Blogs
. Made that feature a lot of years ago - sports a 1-5 star rating, Episode Name, Episode Number, and brief summary.
Also wondering if I should revive
Episode Appearances
... my only original intention with it was to keep track of episodes characters I liked appeared in. lol Were it easy to use,. it might have a lot of potential.
Actually it's amazingly easy to use. You can literally load it up on a tablet while you watch a series, tap each character as you see them, and Post it when done.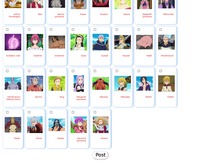 The hard part is finding the darn thing. xD Short of URL hacking, I have no idea how anyone would use it.
Wonder what improvements tomorrow's
DAILY
will bring.

---
---
Be the first to have your name here. Simply support the site via PayPal or Patreon.
The dollar amounts you contribute will be available for you to apply to any page you choose. PayPal donations will be applied to your account within 24 hours, and Patreon pledges will be applied by the 2nd week of the following month.
---
---
PLEASE READ :: I need your help identifying what on ACDB is of value to you. You can do this by sponsoring pages with your jewels. Simply go to the page you like, scroll down to 'Sponsored with Jewels' and fill out the short form with the amount of jewels you wish to apply. The are not subtracted from your account, and there is a restriction you can not sponsor in total for more than what you have. You can also change the amount at any time.
Bookmark this Page