It's been about a year now, and I'm still slowly working towards my goal of indexing 100,000 lines. More than half way there now!
I've updated
Episode Transcripts
to have a default mode of listing available episodes.
Also updated
Top 100 Promoters of Mai Husbando
and
Top 100 Promoters of Mai Waifu!
to look a bit nicer.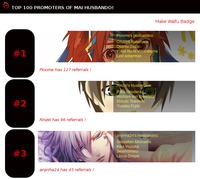 I've restored some features on source.php that had stopped working. Clicking the links at the top of a series page, like Reviews and Similar should now take you to the correct location on the page.
I'm a little curious if I should revive
Episode Blogs
. Made that feature a lot of years ago - sports a 1-5 star rating, Episode Name, Episode Number, and brief summary.
Also wondering if I should revive
Episode Appearances
... my only original intention with it was to keep track of episodes characters I liked appeared in. lol Were it easy to use,. it might have a lot of potential.
Actually it's amazingly easy to use. You can literally load it up on a tablet while you watch a series, tap each character as you see them, and Post it when done.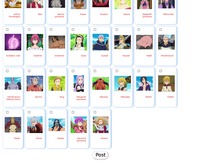 The hard part is finding the darn thing. xD Short of URL hacking, I have no idea how anyone would use it.
Wonder what improvements tomorrow's
DAILY
will bring.

| | |
| --- | --- |
| Bookmark this Page | |