Short version:
Explore ACDB, earn cards. Daily!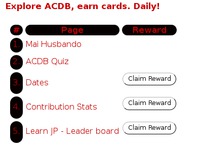 Long version: We've long hard a couple of problems.
1. There's over 800 PHP scripts on ACDB, and I'm always adding new ones.
2. Too many of them go unused and unseen.
So I figured why not take a random selection of them each day, and issue cards for visiting them.
Several challenges and a few hundred lines of code later, the idea is live ~
It has a few added benefits for me in that, each day I get to revisit things I created months and even years ago. A page that used to have only a few entries now has hundreds, so I update it to have a pager. A page with links to other pages, I find are not in the menu, so I add them.
It's an easy and fun way for me to refresh the site, at my own pace.
And should you see something you like, know that all these links can be found
in the Menu
, and you can use the
bookmarks feature
to add it to your own drop down list of link.
---
---
Be the first to have your name here. Simply support the site via PayPal or Patreon.
The dollar amounts you contribute will be available for you to apply to any page you choose. PayPal donations will be applied to your account within 24 hours, and Patreon pledges will be applied by the 2nd week of the following month.
---
---
PLEASE READ :: I need your help identifying what on ACDB is of value to you. You can do this by sponsoring pages with your jewels. Simply go to the page you like, scroll down to 'Sponsored with Jewels' and fill out the short form with the amount of jewels you wish to apply. The are not subtracted from your account, and there is a restriction you can not sponsor in total for more than what you have. You can also change the amount at any time.
Bookmark this Page